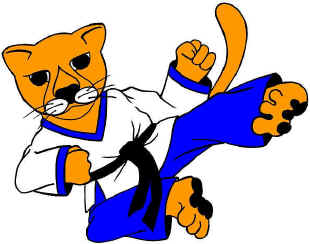 Little Puma's is a revolutionary method of using martial arts as a training platform to encourage and motivate 4-7 year olds.  It aids childhood development and teaches and promotes life skills.  There are five key areas we concentrate on:
Self esteem
Discipline
Channelling aggression
Confidence
Self-defence
Is there any proof of my child's progress?
Yes, there are 8 Little PUMA gradings. These gradings are based on set themes. The themes revolve around encouraging the children's self-awareness, self-protection, self-development and confidence as well as working together as a team, giving encouragement and respect for each other.
The grading themes are not set in any particular order but include the following:
Balance
Focus/concentration
Stranger danger/emergency skills
Co-ordination
Teamwork/leadership
Fitness
Discipline
Memory
When are the Gradings?

The gradings take place roughly every 3 months. With success at each grade comes a new coloured belt.  The little Puma will progress through the belts until they reach the black belt (little Puma equivilant).  Then the child will be ready to progress on to Taekwon-do.
What do I get when I enrole my child?
A Little PUMAs unique training suit (dobock).
Membership into our organisation: Professional Unification of Martial Arts.
Two weeks free training.
A Martial Arts Licence (It is a lawful requirement that anyone participating in martial arts has a licence). The licence also acts as a training record.
'No fee' gradings. Your child will grade every four months.
New belts supplied with each grading.
Insurance.
Stitch on badges, star awards, pin badges and certificates as they are earned by the Little PUMAs.
Oxfordshire Taekwon-do – The Place to look for martial arts in Abingdon, Martial Arts in Didcot and Martial Arts in Grove or Wantage.